Websites and Videos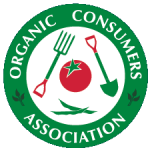 Organic Consumers Association
OCA educates and advocates on behalf of organic consumers, engages consumers in marketplace pressure campaigns, and works to advance sound food and farming policy through grassroots lobbying. We address crucial issues around food safety, industrial agriculture, genetic engineering, children's health, corporate accountability, Fair Trade, environmental sustainability, including pesticide use, and other food- and agriculture-related topics.


Center for Food Safety
Center for Food Safety (CFS) is a national non-profit public interest and environmental advocacy organization working to protect human health and the environment by curbing the use of harmful food production technologies and by promoting organic and other forms of sustainable agriculture. CFS also educates consumers concerning the definition of organic food and products.


GM Watch
GM Watch provides the public with the latest news and comment on genetically modified (GMO) foods and crops. GMWatch is an independent organization that seeks to counter the enormous corporate political power and propaganda of the GMO industry and its supporters.


Mercola
The purpose of our website is to provide you with valuable information and give you the knowledge you need to take control of your health. You'll notice that we partner with like-minded organizations that are as concerned about your health as you are, and push for initiatives that can improve your health all while creating a sustainable world for you and your family.


Crinnion Opinion
Walter J. Crinnion ND graduated with the first class at what is now Bastyr University in Seattle, Washington in 1982. With over 30 years of medical practice, he is considered one of the foremost experts in the field of environmental medicine.


Environmental Working Group
EWG's groundbreaking research has changed the debate over environmental health. From households to Capitol Hill, EWG's team of scientists, policy experts, lawyers, communication experts and programmers has worked tirelessly to make sure someone is standing up for public health when government and industry won't. Through our reports, online databases, mobile apps and communications campaigns, EWG is educating and empowering consumers to make safer and more informed decisions about the products they buy and the companies they support.


Rodale Institute
Rodale Institute is proud to announce the new Regenerative Organic Certification, a cooperative effort among a coalition of farmers, ranchers, nonprofits, scientists, and brands, led by Rodale Institute, to establish a new, high-bar standard for regenerative organic agriculture. The standard encompasses guidelines for soil health and land management, animal welfare, and farmer and worker fairness.


Pesticide Action Network
At Pesticide Action Network (PAN) North America, we work to create a just, thriving food system. For too long, pesticide and biotech corporations have dictated how we grow food, placing the health and economic burdens of pesticide use on farmers, farmworkers and rural communities. PAN works with those on the frontlines to tackle the pesticide problem — and reclaim the future of food and farming.


Regenerative Agriculture
Regenerative Agriculture describes farming and grazing practices that, among other benefits, reverse climate change by rebuilding soil organic matter and restoring degraded soil biodiversity – resulting in both carbon drawdown and improving the water cycle.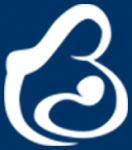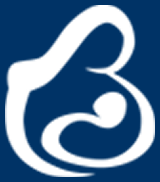 National Vaccine Information Center –
NVIC launched the vaccine safety and informed consent movement in America in the early 1980's and is the oldest and largest consumer led organization advocating for the institution of vaccine safety and informed consent protections in the public health system.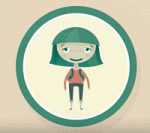 Olivia – Animated video by Kelly Haas-
Meet Olivia. California native. Loves her school. What will happen to her now that controversial SB 277 is the law?


Vaxxed- The Movie Trailer –
In his ongoing effort to advocate for children's health, Wakefield directs this documentary examining the evidence behind an appalling cover-up committed by the government agency charged with protecting the health of American citizens.


Trace Amounts –
Trace Amounts is an investigative documentary exploring the link between the mercury based preservative thimerosal and the autism epidemic. The film further explores the alarming rate that the world population is being exposed to mercury through industrial emissions and the unsafe use and disposal of dental silver fillings and florescent light bulbs.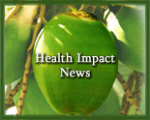 Health Impact News–
Studies show that the countries with the most vaccines have the worst infant death rate
Books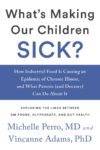 What's Making Our Children Sick? by Michelle Perro, MD and Vincanne Adams PhD
What's Making Our Children Sick? explores the frightening links between our efforts to create higher-yield, cost-efficient foods and an explosion of childhood morbidity, but it also offers hope and a path to effecting change. The predicament we now face is simple. Agroindustrial "innovation" in a previous era hoped to prevent the ecosystem disaster of DDT predicted in Rachel Carson's seminal book in 1962, Silent Spring. What's Making Our Children Sick? exposes our current predicament and offers insight on the medical responses that are available, both to heal our kids and to reverse the compromised health of our food supply.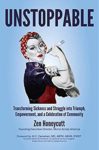 Unstoppable by Zen Honeycutt
UNSTOPPABLE is the story of a mother who learns about the current state of our world food supply, how it affects your dinner table, and how it affects the health of everyone you love. In her book, Zen walks you through her realization of the chemicals we all feed our loved ones, their origin and effects according to top-notch scientists from around the world, and why none of this is necessary according to farmers who not only want to feed the world, but to nourish it, and protect the environment at the same time.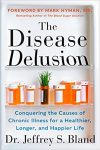 Disease Delusion by Jeff Bland
For decades, Dr. Jeffrey Bland has been on the cutting edge of Functional Medicine, which seeks to pinpoint and prevent the cause of illness, rather than treat its symptoms. Managing chronic diseases accounts for three quarters of our total healthcare costs, because we're masking these illnesses with pills and temporary treatments, rather than addressing their underlying causes, he argues. Worse, only treating symptoms leads us down the path of further illness.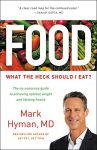 Food, What the Heck Should I Eat by Mark Hyman
Even the most health conscious among us have a hard time figuring out what to eat in order to lose weight, stay fit, and improve our health. And who can blame us? When it comes to diet, there's so much changing and conflicting information flying around that it's impossible to know where to look for sound advice.With myth-busting insights, easy-to-understand science, and delicious, wholesome recipes, Food: What the Heck Should I Eat? is a no-nonsense guide to achieving optimal weight and lifelong health.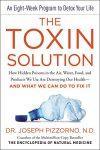 The Toxic Solution by Joe Pizzorno
Eliminate avoidable toxins, mitigate the effects of those you can't avoid, and enjoy a longer life with this essential health guide from a pioneer in integrative medicine, Dr. Joe Pizzorno—the author, teacher, practitioner, and founder of Bastyr University, the country's first and largest fully accredited university of natural medicine.
Growing A Revolution, Bringing Our Soil Back to Life by David Montgomery
The problem of agriculture is as old as civilization. Throughout history, great societies that abused their land withered into poverty or disappeared entirely. Now we risk repeating this ancient story on a global scale due to ongoing soil degradation, a changing climate, and a rising population. But there is reason for hope. David R. Montgomery introduces us to farmers around the world at the heart of a brewing soil health revolution that could bring humanity's ailing soil back to life remarkably fast. Growing a Revolution draws on visits to farms in the industrialized world and developing world to show that a new combination of farming practices can deliver innovative, cost-effective solutions to problems farmers face today.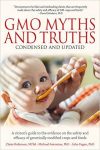 GMOs Myths and Truths
It is often claimed that the case against genetically modified (GM) crops and foods is based on emotion, not science, and that to oppose GM crop and food technology is to be anti-science. It is also claimed that GM crops offer higher yields and better nutrition, that they are safe for health and the environment, that they reduce agrochemical use, and that they are needed to feed the world's growing population. This book, co-authored by two genetic engineers and a writer/researcher, exposes these claims as false, using scientific and other documented evidence. GMO Myths and Truths summarizes the facts on the safety and efficacy of genetically modified (GM) crops and foods in terms that are accessible to the non-scientist but still relevant to scientists, policymakers and educators. The evidence presented points to many hazards, risks, and limitations of genetic engineering technology. These include harms found in animal feeding and ecological studies, which in turn indicate risks to health and the environment posed by GM crops and foods.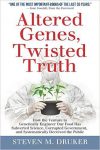 Altered Genes Twisted Truths
This book uncovers the biggest scientific fraud of our age. It tells the fascinating and frequently astounding story of how the massive enterprise to restructure the genetic core of the world's food supply came into being, how it advanced by consistently violating the protocols of science, and how for more than three decades, hundreds of eminent biologists and esteemed institutions have systematically contorted the truth in order to conceal the unique risks of its products–and get them onto our dinner plates.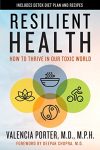 Resilient Health, How to Survive in a Toxic World by Valencia Porter
Our health is the result of our genetic makeup interacting with our environment. So, how can we thrive in an increasingly toxic world? With progress, new challenges have arisen – more chemicals in the environment, changing climate and ecosystems, altered food resources, more sedentary and high-stress lifestyles, and the constant onslaught of online media – creating health issues including chronic diseases like diabetes, cancer, allergies, and autoimmune illnesses that need novel approaches. The good news is that we can reclaim our health – reducing our toxic load, getting to the root causes of illness, and restoring the body's natural ability to heal. In this clear, easy-to-understand guide, Dr. Valencia Porter shows you how to take charge of your health and become resilient in the face of our challenged environment.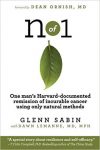 N of One by Glenn Sabin
In n of 1, author Glenn Sabin takes readers along his remarkable journey with 'incurable' cancer, where he discovers:
No two cancers are exactly alike. Our bodies, minds and diseases are unique, and need to be treated as such.
Knowledge and empowerment are your best allies against a life-limiting diagnosis.
Lifestyle changes are a powerful way to help prevent, manage and reduce the recurrence of disease–and to improve your quality of life.
A strong support system and a clear mind may significantly improve your health.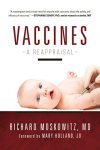 Vaccines, A Reappraisal by Richard Moskowitz
Drawing on fifty years of experience caring for children and adults, Dr. Moskowitz examines vaccines and our current policy regarding them. Weaving together a tapestry of observed facts, clinical and basic science research, news reports from the media, and actual cases from his own practice, he offers a systematic review of the subject as a whole.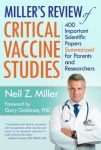 Miller's Review of Critical Vaccine Studies by Neil Miller
Many people sincerely believe that all vaccines are safe, adverse reactions are rare, and no peer-reviewed scientific studies exist showing that vaccines can cause harm. This book ― Miller's Review of Critical Vaccine Studies ― provides the other side of the story that is not commonly told. It contains summaries of 400 important scientific papers to help parents and researchers enhance their understanding of vaccinations.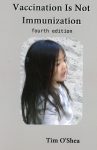 Vaccination Is Not Immunization
The parent's definitive book on vaccine problems – a complete vaccine education. It will open your eyes. This book is written for everyone concerned about the health and well-being of their children and of themselves.