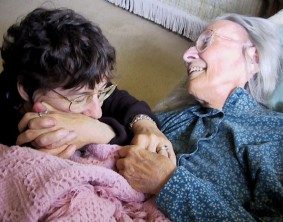 Here you will find explanations of what Palliative care is and what it is not. It can be care associated with hospice and end of life care, but it is also a less invasive, humane way to deal with chronic illness when cure is no longer possible but a quality of life is attainable.
The Westreich Foundation supports The California State University Institute for Palliative Care is preparing the current and future palliative care workforce while educating the community about the benefits of palliative care. The Institute offers instructor-led and self-paced online learning to individuals living throughout the country and anywhere in the world.

Housed within one of the largest state university systems in the United States, the Institute leverages the strength of CSU's workforce development infrastructure to deliver evidence-based online and in-person learning to current and future palliative care professionals working in health systems, hospices, skilled nursing facilities, case management and physician practices. The Institute helps organizations and professionals prepare to meet the growing needs of chronically or seriously ill people in all care settings.
Palliative Medicine and Palliative Care
Palliative care (from Latin palliare, to cloak) is any form of medical care or treatment that concentrates on reducing the severity of disease symptoms, rather than striving to halt, delay, or reverse progression of the disease itself or provide a cure. The goal is to prevent and relieve suffering and to improve quality of life for people facing serious, complex illness. Non-hospice palliative care is not dependent on prognosis and is offered in conjunction with curative and all other appropriate forms of medical treatment.
A recent World Health Organization describes palliative care as "an approach that improves the quality of life of patients and their families facing the problems associated with life-threatening illness, through the prevention and relief of suffering by means of early identification and impeccable assessment and treatment of pain and other problems, physical, psychosocial and spiritual." More generally, however, the term "palliative care" may refer to any care that alleviates symptoms, whether or not there is hope of a cure by other means; thus, palliative treatments may be used to alleviate the side effects of curative treatments, such as relieving the nausea associated with chemotherapy.
The term "palliative care" is increasingly used with regard to diseases other than cancer such as chronic, progressive pulmonary disorders, renal disease, chronic heart failure, HIV/AIDS, and progressive neurological conditions. In addition, the rapidly growing field of pediatric palliative care has clearly shown the need for services geared specifically for children with serious illness.
Although the concept of palliative care is not new, most physicians have traditionally concentrated on trying to cure patients. Treatments for the alleviation of symptoms were viewed as hazardous and seen as inviting addiction and other unwanted side effects.
The focus on a patient's quality of life has increased greatly during the past twenty years. In the United States today, 55% of hospitals with more than 100 beds offer a palliative-care program, and nearly one-fifth of community hospitals have palliative-care programs. A relatively recent development is the concept of a dedicated health care team that is entirely geared toward palliative treatment.
Goals
While palliative care may seem to offer a broad range of services, the goals of palliative treatment are concrete: relief from suffering, treatment of pain and other distressing symptoms, psychological and spiritual care, a support system to help the individual live as actively as possible, and a support system to sustain and rehabilitate the individual's family.
History
Palliative care began in the hospice movement and is now widely used outside of traditional hospice care. Hospices were originally places of rest for travelers in the 4th century. In the 19th century a religious order established hospices for the dying in Ireland and London. The modern hospice is a relatively recent concept that originated and gained momentum in the United Kingdom after the founding of St. Christopher's Hospice in 1967. It was founded by Dame Cicely Saunders, widely regarded as the founder of the modern hospice movement.
Hospice in the United States has grown from a volunteer-led movement to improve care for people dying alone, isolated, or in hospitals, to a significant part of the health care system. In 2005 more than 1.2 million individuals and their families received hospice care. Hospice is the only Medicare benefit that includes pharmaceuticals, medical equipment, twenty-four hour/seven day a week access to care and support for loved ones following a death. Most hospice care is delivered at home. Hospice care is also available to people in home-like hospice residences, nursing homes, assisted living facilities, veterans' facilities, hospitals, and prisons.
End of life Care
Large areas of medicine are still missing statistical figures on the exact prognosis – in these matters the physician's previous experiences largely guides pronouncements in this matter. Medical studies have demonstrated that most doctors are overly optimistic when giving prognostic information, that is, they tend to overstate how long the patient might live. For patients who are critically ill, particularly those in an intensive care unit, there are numerical prognostic scoring systems that are more accurate. The most famous of these is the APACHE II scale. However, this scale is most accurate in the seven days prior to a patient's predicted death.
Knowing the prognosis helps determine whether it makes more sense to attempt certain treatments or to withhold them, and thus plays an important role in end-of-life decisions.
Similarities in palliative and integrative care
Integrative Palliative Care provides diverse healing modalities based on the philosophy of caring for the whole person and incorporating concepts of the body/mind/spirit connection in order to improve quality of life.  Modalities that provide additional choices to standard medical practices allow for increased patient choices and autonomy and assist in bridging cultural and racial gaps that exist between patients and providers.
Integrative Palliative Therapies may include:
TOUCH THERAPIES
Reiki, Therapeutic Touch and Healing Touch may be offered. These approaches are based on the premise that a person is an open energy system and illness is a reflection of an imbalance in an individual's energy field.  The practitioner detects areas of imbalance and brings the field back into balance through a step-by-step process that promotes healing and/or comfort.
AROMATHERAPY
Aromatherapy is the use of odorous compounds such as essential oils, by inhalation, massage, compresses and baths to enhance the comfort of patient and family.  Particularly successful in relieving agitation and anxiety are lavender hydrotherapy and baths.  Customized blends have been developed which have been helpful in different situations.
HARP THERAPY
The harp has been a symbol and source of relief and comfort for thousands of years.  Harp music has been proposed to have several unique healing properties due to the nature of the instrument itself.  Harp therapy is based on the theory that each person has a resonant tone that is harmonious with his or her body.  The harp therapist works with nine essential elements of music and matches the music with the resonant tone of the person.
MUSIC THERAPY
Making music appears to be one of the fundamental activities of humankind, as characteristically human as drawing and painting.  No culture so far discovered lacks music.  Music therapy in palliative care is the skillful use of music to address a range of multidimensional challenges faced by terminally ill patients and their families.  Any therapeutic task must concentrate on the restoration of hope, accommodating feelings of loss, isolation and abandonment, understanding suffering, forgiving others, accepting dependency while remaining independent and making sense of dying.  Music therapy can be a powerful tool in this process of change.
TRADITIONAL CHINESE MEDICINE
Acupuncture, acupressure and massage may be made available to patients, family members. Common reasons for treatment are pain, fear, anxiety, depression, dyspnea, nausea, vomiting and constipation.
---
Resources
CSU Institute for Palliative Care
The California State University Institute for Palliative Care is preparing the current and future palliative care workforce while educating the community about the benefits of palliative care. The Institute offers instructor-led and self-paced online learning to individuals living throughout the country and anywhere in the world.