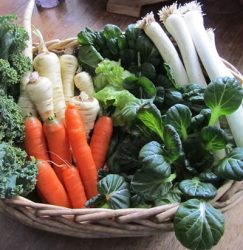 When I started the Westreich Foundation almost 20 years ago, I knew I wanted to be a catalyst moving from disease care to health creation, health promotion and prevention because it never made sense to me to wait until myself or my children were sick before I took action. I found Integrative Medicine's system's biology philosophy of putting the patient, body mind spirit at the center of his/her health and promoting homeostasis (the natural state of the body to heal itself).
Today, however, it is impossible to create health, even paying strict attention to the quality of our food and how it is grown, our water supply, what environmental toxins we are exposed to, and on and on. So I kept moving upstream along the health continuum to find where health begins. It doesn't begin at any doctor's office or hospital when you go there to be treated for a condition or disease. It begins the day we are born when our mother's start feeding us breast milk. Even the mother's milk today may not be as pure as we are given to believe. Many countries have started testing mothers who are breast feeding and they are finding traces of glyphosate in many of these mothers. Glyphosate is appearing in 'intolerable levels' that could harm a developing baby and the mother. The weed killer traces in breast milk were found to be between 0.210 and 0.432 nanograms per milliliter (PPB). Drinking water is allowed to have no more than 0.100 nanograms of glyphosate states Christina Sarich from Global Research in June of 2015.
So if we really going to create health and prevent disease, we need to go to the beginning and be sure what we are eating is safe and free of chemicals that are harmful to us and our families.
Even discussing the safety of what we put into our bellies of our children, ourselves and our pets is a very controversial topic in today's world. I can only think of two topics that will not be discussed in the media, in scientific research and in public forms: Food Safety and Vaccine Safety. Anything that involves our health and the health of our families, our environment, and ultimately our plant should always be open for genuine dialogue played out in a public forum.
That being said, the issue here is food safety. Is our food safe for us to eat? Are we growing food in a way that is not harmful to us, to the people who do the farming, and are current practices of growing food in many areas around the world sustainable. We have Agra-business and chemical companies telling us yes, we can trust them. Maybe that is true, but what if it is not? Are we going down a road from which there may be no return regarding the safety of our food supply? What if Agra-business and chemical companies really do value profits over people, our environment and our planet?
There is so much thorough, independent research regarding the harmful effects of the toxic chemicals used in the growing or our food including pesticides and herbicides. Monsanto's chemical, glyphosate is found in over 80% of what we eat. It is better known as Roundup and is banned in many countries in Europe and South America. The World Health Organization in March of 2015 brought forth an in-depth report stating after much consideration and research that "glyphosate is a probable human carcinogen."
We have something called a Toxic Body Load. It is very well stated by Jozef J Krop, M.D., FAAE, Healing the Planet, One Patient at a Time. "Toxic load consists of past and present physical, chemical, biological contaminants in food, air and water, as well as the emotional state of the individual. You can compare total body burden to a container – you can only fill it to capacity. Anything above capacity causes spillover or, in other words, allergic symptoms and ultimately sickness. Another image to keep in mind is the straw that breaks the camel's back."
Why do concentrations of harmful chemical pollutants continue to rise, in the environment and in our bodies, despite decades of campaigning against them? The chosen strategy of most environmental and public health advocates has been to focus on the elimination (banning) of specific toxic chemicals. Such campaigns are sometimes successful on their own terms, but the result is never a reduction in chemical usage. Instead, a new chemical replaces the old one. Even worse, the replacement is often also found to be toxic. Neonicotinoid pesticides, for example, are the fourth and latest iteration of 'safer' pesticides. Rather than presuming that the problem is one of chemical 'rotten apples', this article considers whether or not the evidence indicates a more profound failure of chemical risk assessment. Jonathan Latham examines whether the fault lies with the science underpinning chemical risk assessments or the regulatory institutions responsible for their implementation. The conclusion reached is that the institutions are broken while the science is unfixable. This understanding has many implications besides showing an urgent need for a profound rethinking of the strategies and goals of campaigners who wish to create a world free of toxic chemicals. Courtesy of Jonathan Latham, PhD, www.independentsciencenews.org
Be a consciously aware consumer. Buy organic when you can. Don't believe everything you read in the newspapers and see on television. Remember who their advertisers are? Pharmaceutical and companies selling products made with chemicals. Safety testing of chemicals before being available to consumers is not mandatory. Of the over 80,000 chemicals we are exposed to, only 5 have been tested for consumer safety.
So now you can't just go into the super market and fill your basket with appealing foods to feed your family. You can't count on the water coming out of the tap. You have to be a watchdog, you have to read labels, you have to research reliable sources not backed by special interests and lobbyists. It isn't easy trying to do the best today for your family and for yourself. But that is where we are. Who can you trust? Who has your best interests at heart? I don't know. I don't think it is our government or the agencies formed to protect us.
So that is how I got to where I am now. I started with a desire to effect the way health care was delivered to the people in our country. But the more you know, the more you want to know, especially when your health and the health of your family is at stake.
---
Reading and Resources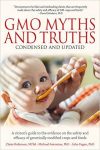 GMOs Myths and Truths
It is often claimed that the case against genetically modified (GM) crops and foods is based on emotion, not science, and that to oppose GM crop and food technology is to be anti-science. It is also claimed that GM crops offer higher yields and better nutrition, that they are safe for health and the environment, that they reduce agrochemical use, and that they are needed to feed the world's growing population. This book, co-authored by two genetic engineers and a writer/researcher, exposes these claims as false, using scientific and other documented evidence. GMO Myths and Truths summarizes the facts on the safety and efficacy of genetically modified (GM) crops and foods in terms that are accessible to the non-scientist but still relevant to scientists, policymakers and educators. The evidence presented points to many hazards, risks, and limitations of genetic engineering technology. These include harms found in animal feeding and ecological studies, which in turn indicate risks to health and the environment posed by GM crops and foods.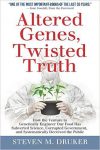 Altered Genes Twisted Truths
This book uncovers the biggest scientific fraud of our age. It tells the fascinating and frequently astounding story of how the massive enterprise to restructure the genetic core of the world's food supply came into being, how it advanced by consistently violating the protocols of science, and how for more than three decades, hundreds of eminent biologists and esteemed institutions have systematically contorted the truth in order to conceal the unique risks of its products–and get them onto our dinner plates.
Information and Action Networks for Genetically Modified Foods and Pesticides